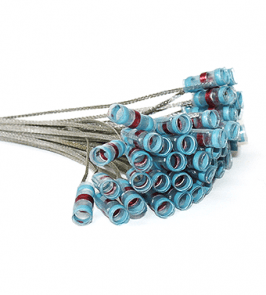 Shield Terminators (Solder Sleeves)
Nelco Products™ Solder Sleeve Shield Terminators are cable terminators made to exacting specifications. The outer jacket is made from fluoroplastic and is loaded with the exact amount of pre-fluxed solder necessary to provide a perfect connection every time. All you need to do is heat it up with a heat gun or an infrared source until the solder has melted.
Environmentally Sealed Shield Terminators
The thermoplastic sealing rings at the ends of the STS melt and flow during the heating process, providing a tight environmental seal. Each heat shrink solder sleeve cable terminator provides a rugged and sealed soldered wire connection that is completely insulated, encapsulated and strain relieved for unmatched strength and durability.
The solder terminator sleeves are offered with (part number H- ML- x) or without lead (part number H- M- x) pre-installed, in a wide range of sizes, and in convenient package quantities of 100 sleeves per package.
The STS without lead meet MIL Spec, SAE AS53519 / 1 and the STS with lead meet SAE AS53519/2. Each terminator has an environmental operating temperature of -67°F to 302°F (-55°C to 150°C).
Request a Quote