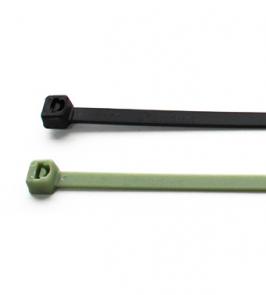 Polypropylene Cable Ties
Polypropylene Cable Ties are made of a high-quality thermoplastic polymer. When you need a cable tie that is base, salt and/or hydrochloric acid resistant, Polypropylene Cable Ties are the ideal choice.
Polypropylene Cable Ties are available in a variety of lengths between 4" and 20".
Nelco Products carries three distinctive types of Polypropylene Cable Ties: light weight, medium weight and releasable.
Both the light and medium weight cable ties come in black and light green colors; black is for outdoor use, light green is for indoor use.
The light weight ties have a tensile strength from 11 lbs. for the 4" cable tie to 20 lbs. for the 14" cable tie and are purchasable in packages of 1,000 ties.
The medium weight cable tie has a tensile strength of 50 lbs. and is available in package amounts of 250.
The releasable cable ties come in black only and in packages of 100. The tensile strength of the releasable ties is 90 lbs.
Our warehouse has thousands of cable ties in stock from a variety of manufacturers. If you need your cable ties shipped quickly, we can accommodate your request for nearly any size, color or brand you require.
Request a Quote