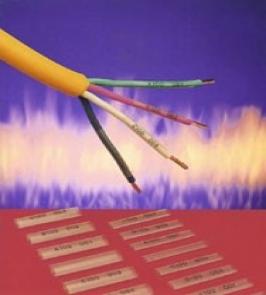 Kynar® Modified Polyvinylidene Fluoride Tubing-2:1
This versatile, ultra-durable Kynar Modified Polyvinylidene Fluoride Tubing is offered in a wide assortment of convenient sizes and is recommended for exceptionally reliable shrink- fit protection and strain relief for wires, solder joints, wire terminals and cable/wire connections. This superior quality Kynar wire tube is ideal for use in a broad range of electrical wiring applications, especially for automotive wiring, jackets, fuse coverings, electric wrap and military wire markers.
Ranging from 3/64" to 2" in size, NP- 350 Kynar tubing meets all required AMS- DTL- 23053/8C, UL and CSA specifications, and has a shrink ratio of 2:1.
This particular modified Polyvinylidene Fluoride shrink tubing is currently available in Class 1 only and comes in 4' lengths.
Kynar® Very Flexible Polyvinylidene Fluoride Shrink Tubing is also available.
Filter
Kynar® Modified Polyvinylidene Fluoride Tubing-2:1
Color

Length

Nominal Size BEFORE Shrinkage

Recovered Wall Thickness (Nominal)

Shrink Ratio
Request a Quote