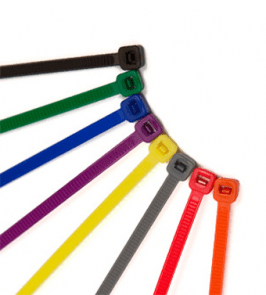 Cable Ties
Nelco Products is the one-stop solution for all your wiring accessories. Our inventory includes the original cable tie, whether you call it a zip tie, wire tie or tie wrap — we have it. We also carry releasable zip ties, metal cable ties, reusable cable ties, heavy duty cable ties and nylon cable ties, just to name a few.
We offer high heat cable ties, which are useable up to 250° F, and the self-lock stainless steel cable tie, which can handle temperatures from -80° to 500° F.
We stock a variety of colors including fluorescent colors.
Several varieties of our cable ties come in a variety of loop tensile strengths, some as high as 250 lbs.
If identification is your goal, we have a wide variety of identification cable ties.
Nelco Products also carries military spec cable ties, cable tie installation products and label printers that fit our label-ready cable ties.
Our warehouse has thousands of cable ties in stock from a variety of manufacturers. If you need your cable ties shipped quickly, we can accommodate your request for nearly any size, color and brand you require.