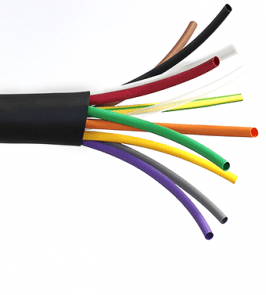 Flexible Polyolefin-2:1
Flexible polyolefin shrink tubing is ideal for providing wires and cables with a resilient, long-​lasting level of protection in everyday applications. It features a 2:1 (50%) shrink ratio when heated to a minimum temperature of 212°F (100°C). The operating temperature is -67°F to 275°F (-55°C to 135°C) allowing you to use this in a multitude of installations. It is non-​corrosive, non-​nutrient, and solvent resistant.
Flexible Polyolefin Tubing Product Compliance:
The Flexible Polyolefin Tubing meets the following specifications: UL File E3910; ABS, and ROSH Compliant; CSA LR38227; SAE-​AMS-​DTL-​23053/5, Class1,2; AMS-​3636, AMS-​3637.
Filter
Flexible Polyolefin-2:1
Color

Length

Nominal Size BEFORE Shrinkage

Recovered Wall Thickness (Nominal)

Shrink Ratio
Filter
Showing 16 Products
Done